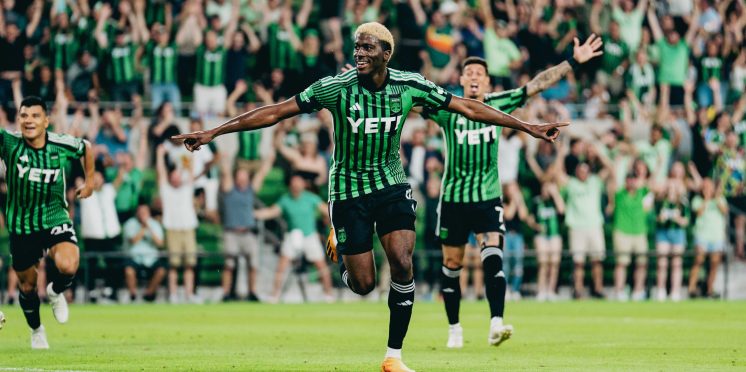 Anatomy of a Goal: Austin striker Gyasi Zardes' last-minute winner vs. Toronto FC
Toronto FC held Austin FC for 90 minutes. Then, they gave up an injury-time goal after a calamity in the six-yard box.
After a midweek scoreless draw at home to the New York Red Bulls, TFC travelled to Texas for a Saturday night match in Texas. With a seemingly endless list of injuries, Bob Bradley has been forced to play a number of players recently signed from TFC II. 
As a result, the game plan was to follow a defensive first philosophy, and Bob's approach was successful for the majority of the match.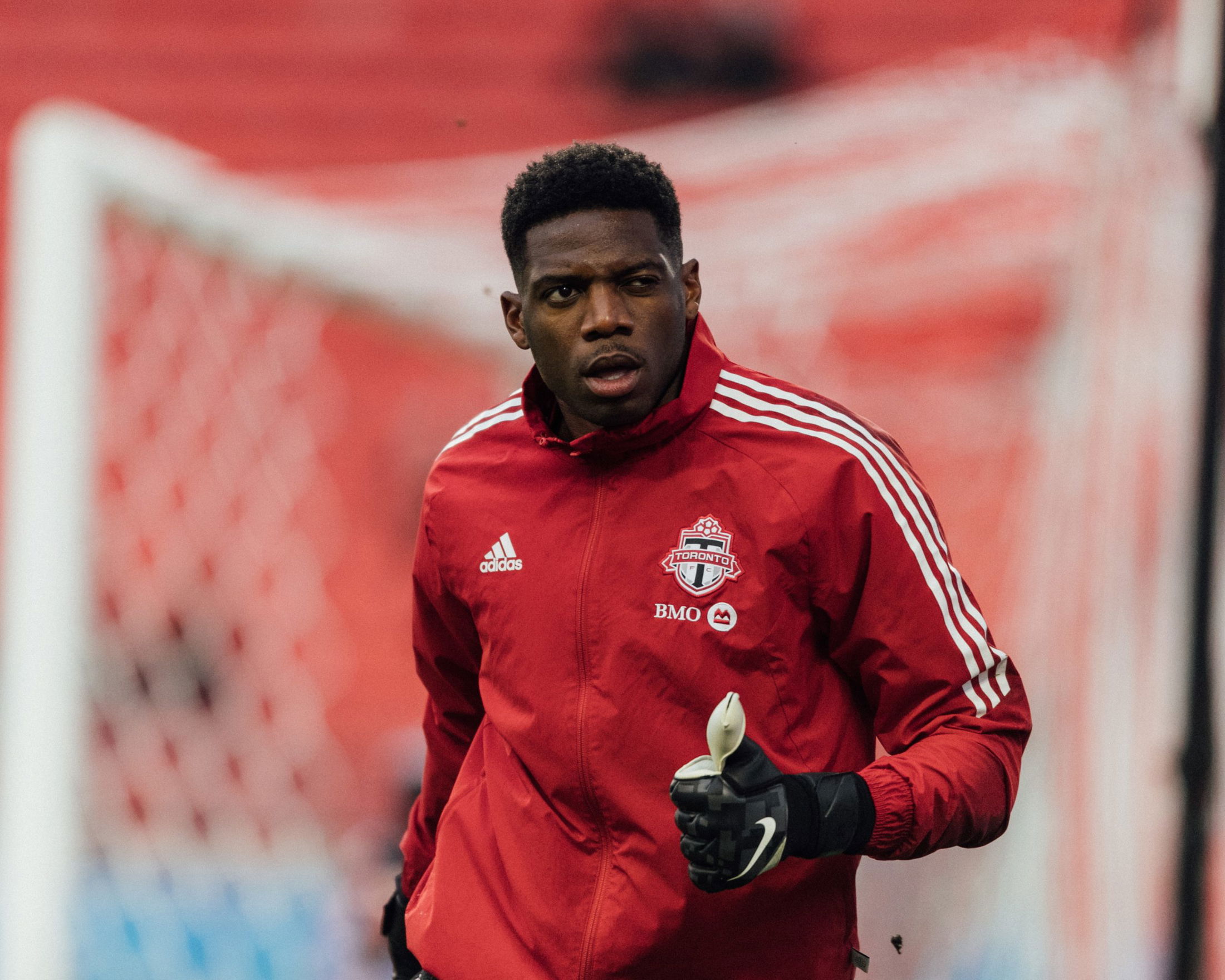 Until injury time, that is, when the calamitous sequence around the 18-yard box resulted in Gyasi Zardes' goal.
Here's the goal:
The Buildup
The low block — or the "Really Low Block," as it appeared — saw TFC's outfield players sitting below the centre circle near the end of the game. This formation allowed for Austin to bring the ball high up the pitch.
Here, Jhojan Valencia sends a diagonal ball across to Adam Lundqvist:
Lundqvist then launches a cross into the box, but Raoul Petretta intercepts the cross with a header and pops the ball high up in the air:
TFC 'keeper Sean Johnson sees the ball and then hesitates to come out and claim it, as Austin's Julian Cascante lies on the ground in front of Johnson:
The Goal
Austin's Nick Lima attempts the backwards header and rings it off the crossbar. Zardes is waiting and head the ball into the corner, over the head of Matt Hedges.
What Went Wrong
It's easy to blame Sean Johnson and his decision to avoid running out to grab the ball after Petretta's interception. However, there are a number of factors that need to be considered before placing the blame solely on the keeper.
Aimé Mabika, playing right centre-back, was way out on the right wing: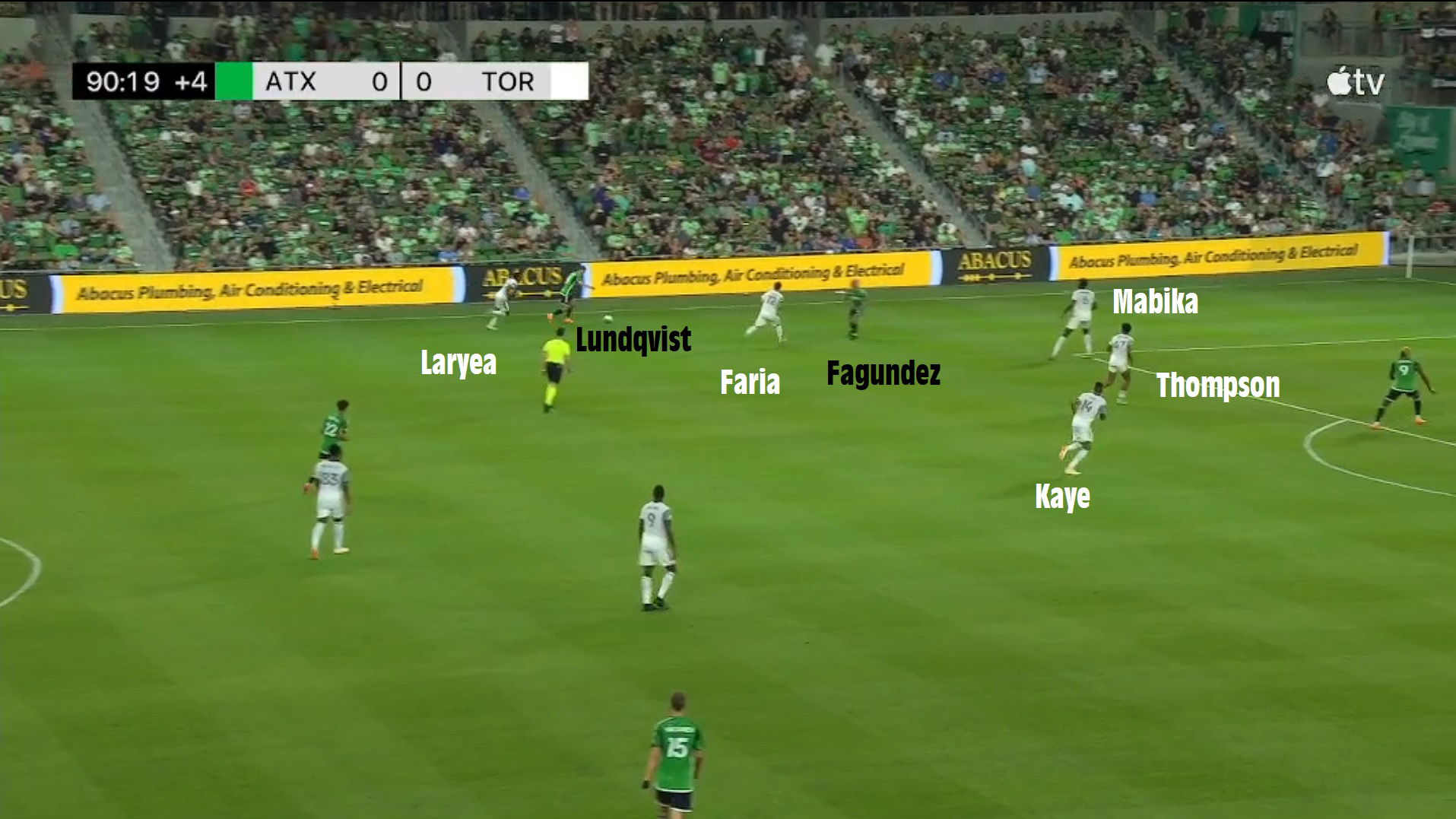 In this instance, it appeared that Toronto was playing in a 3-4-3 formation with three centre-backs.  
As a centre-back, there are instances when Mabika is required to drift out to defend. Kosi Thompson and Kobe Franklin were on the outside and should be responsible for covering the crosses. Mabika looks to be drifting out to cover Diego Fagundez, but ends up in a spot where he's not covering anyone. Petretta ends up heading the ball and popping it up in the air. 
Wouldn't a 6'6" defender like Mabika be able to manage a header more effectively?
Apart from Johnson, there were five TFC players within the vicinity of Nick Lima when he headed the ball.  They were caught ball-watching instead of challenging for a header. Lima was left open to have a free backwards header. There was some miscommunication and probably an assumption that Johnson was coming out to claim the ball. 
So what happened?
Johnson was stuck in a difficult position – he had to choose between running out to claim the ball or waiting for his teammates to take action. Austin's Cascante was lying right at Johnson's feet and the Toronto keeper needed to consider a couple of things in the moment. First, can he actually get to the ball without stumbling over Cascante? Maybe, maybe not. Would there have been a foul called on Cascante?  Perhaps. Johnson stumbles a bit trying to avoid the player, but it probably would not have made a difference in his ability to save the header.
Also, what if Johnson stepped on Cascante? At one point, Johnson's boots were straddling Cascante's head. Would it be worth risking serious injury for his opponent or himself? Cascante was covering his head, but there was no guarantee of safety for either player. It's entirely possible that Johnson could have hurt himself by jumping and landing on Cascante if he came out to claim the ball. 
Johnson was tracking the ball in the air, not looking at Cascante on the ground. Johnson made the choice to retreat onto his goal line in anticipation of another shot. It is assumed that Toronto's defenders would challenge for the ball, but it did not happen. Lima and subsequently Zardes were left open for two free headers and Toronto had to leave Austin with a last-second loss.
What Needs to Happen Next?
Get healthy! – Regardless of what formation/tactics have been used recently, TFC needs their players to return from injury. While it may not be an immediate solution, there are too many first-team players missing from the lineup. For instance, the Reds had only 17 players available for last Wednesday's match against the Red Bulls. That does not provide a lot of options for the coach. 
This current stretch of matches makes it imperative for the team to have players coming off of the bench to provide some relief for the starting XI. Anyone who's played Football Manager knows you cannot keep putting out the same players in a match and expect durability. Toronto's list of injuries confirms this.  While it's frustrating, supporters can only hope for a quick recovery for some of the team's key players and supporting cast. 
Play smart football – Risk management is key for a squad like Toronto's. Previous game plans have this team playing the 4-3-3, employing the high press  With a depleted midfield and some players that are hesitant to track back on defence, the high press does not seem to be working. Playing a more conservative, counter-attacking brand of football will provide more stability through the middle of the pitch. It is not an easy solution to account for so many injuries. However, playing a more realistic style provides an opportunity to get a result instead of continually dropping points.
Saturday's game was frustrating in a number of facets, including the scoreline. While Toronto FC are not completely out of the playoff picture, it is increasingly becoming harder to envision a scenario where they are going to be competitive. 13 points from 14 games is certainly not a great record so far. With the season halfway over in the first weekend of June, this team needs to start accumulating points if they hope to have a spot in the postseason.
---
---