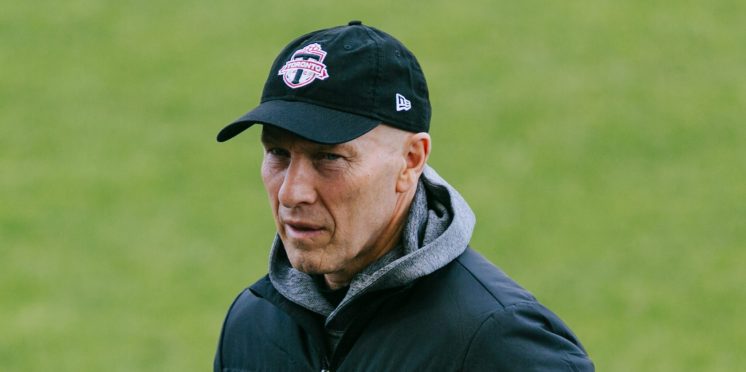 Toronto FC head coach Bob Bradley accuses Federico Bernardeschi of stepping 'out of line'
Toronto FC are in dire straits on the pitch, and things aren't too different off it.
Days after TFC's leading star Federico Bernardeschi very publicly voiced his frustrations with the Reds' tactics and performances after they conceded a stoppage-time goal to lose in Austin, head coach Bob Bradley has called the 29-year-old "out of line" and "wrong."
Bernardeschi said Saturday after TFC slipped to their fifth loss in 14 regular season games that "we need to change something, we need more tactics, we need an idea of how we play.
"This is the real problem for me, it's impossible to play like this… we don't have any ideas of how to play…" added the Italian, who was substituted with 25 minutes of the Austin game remaining and the score at 0-0. "I think this team, this city, the fans, everybody doesn't deserve this… I'm really proud of the team and about every player because it's difficult to play like this… For me, we need something different."
Though he never explicitly stated this was the case, Bernardeschi's quotes have been interpreted by many in the last 72 hours — Waking The Red followers among them — as a call for a change in coaching at BMO Field.
Bradley is not impressed.
"Fede was wrong for speaking that way after the game," Bradley told Neil Davidson of The Canadian Press.. "It was a tough loss, a late goal after we had defended in a really good way. So he was wrong to speak that way after the game, 100 per cent. And we've now discussed it inside the team. [I] made it clear that that was out of line."
Asked about Bernardeschi's specific criticism of his tactics, the three-time MLS coach of the year added: "In football, people have different ideas. Not everybody sees the game the same way."
Davidson notes that when asked if the off-pitch debacle was water under the bridge, Bradley deflected somewhat. "There's a lot of work being done. The work every day in a tough period continues. So that's where we are," he said, a non-answer to a direct question.
Bernardeschi's comments have set social media and #TFCLive ablaze in recent days, sparking a wave of partisan declarations in favour of either Bradley or (more frequently) the Italian playmaker. The furore hasn't been helped by the fact TFC removed the video of Bernardeschi's post-game press conference from their site after the fact, something which saw the club accused by some fans on social media of quasi-censorship.
Bradley has reiterated that he understands fans' frustrations and that TFC will find a way to work through a difficult period.
"Look, I understand the frustration that exists, with the players, with the fans," Bradley said, per Davidson. "And, as I keep saying, in a real way, I take the responsibility every day to think through with the staff the best way to message, the best way to then put training together, the best idea on how we need to play. So when I keep saying that's the work, that's what's going on every day."
Still, the truth is that TFC are rotten on the field right now and appear to be rotting off it. Two wins in 14 games in all competitions in 2023. 404 minutes without scoring, dating back to CJ Sapong's winner against New York City FC on April 29, 25 days ago.
The stats make for grim reading, and the ominous fog around this team is thickening by the week.
There are mitigating circumstances, of course. There are the terrible injury problems, with 10 first-team players missing in Austin. There's the fact a raft of new players still need to gel, an opportunity they have been denied in many cases by said injury problems. The eternally injured Lorenzo Insigne and Bernardeschi, the latter of whom has been forced to carry much of the creative burden with his compatriot absent, have failed to deliver to the extent that Bradley and MLSE will have been hoping for.
Bradley, for his part, admitted that part of the work he needs to do is to work out how to get the best out of the Italian duo. Having them both on the pitch at once would be a start, you'd say.
Incidentally, he also categorically denied speculation that he and Insigne do not see eye-to-eye, or the suggestion the former Napoli man had refused to play against Austin. "That is 100 per cent false," Bradley insisted, adding that it was a fitness problem that kept him out.
Bradley is not one to suffer fools gladly, but his hard-nosed retort to Bernardeschi's comments likely will not go down well given that most onlookers of a TFC persuasion seem to lean in favour of the Italian rather than the American.
Football matches are won on the pitch, but much of the battle for fans' affection is won in the court of public opinion. It's been a bad few months, but it's been a really bad couple of weeks. With each week that passes, the mood turns sourer.
---
---