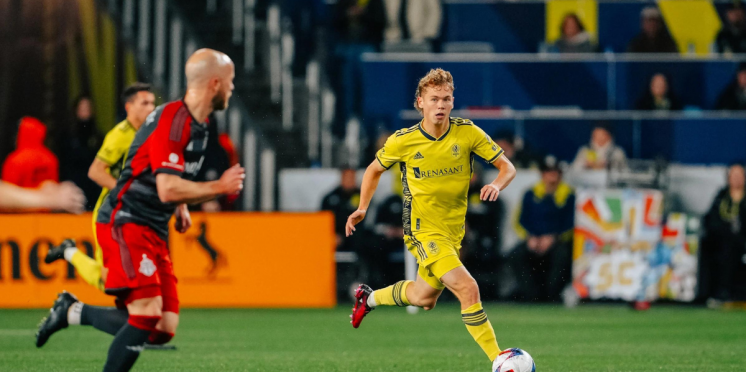 7 players included on Canada's Nations League preliminary roster who deserve to make the final cut
The CONCACAF Nations League (CNL) final round is on the horizon.
With the action looming, Canada's 53-man preliminary roster was released on May 19. There is considerable change from the previous longlist released by Canada two years for the 2021 Gold Cup. Canada's core from 2021 and last year's World Cup squad are included in the new preliminary list, but 26 of those selected in 2021 are absent this time around. With 34 returning players, this leaves 19 players who are new to the program.
Depending on circumstances, most players included on the 2023 list can make a case for inclusion on the final 23-man roster, but only a few new or new-ish names will likely make it. Too much roster turnover for these pivotal CNL games might prove detrimental to the functioning of the 'Brotherhood' and the Gold Cup might be the better option for introducing peripheral players and providing caps to new players.
Even so, highlighted here are seven players deserving of a spot when the final roster is named.
Mathieu Choinière, midfielder, CF Montréal
Choinière has been a versatile regular for CF Montréal the past few years capable of playing a variety of roles. Often deployed on the left side the last two seasons, this season has seen Choinière return to playing a more central role, either as an attacking midfielder or part of a dual pivot with Victor Wanyama in Samuel Piette's absence.
Playing centrally appears to suit Choinière who has been a workhorse and a revelation, picking up two goals and three assists in 15 matches from all competitions and averaging a 7.16 Fotmob rating this season. Choinière earned selection to the MLS Team of the Matchweek in two consecutive weeks in the midst of a club six-game win streak.
Choinière participated in the CanMNT's pre-World Cup camp in November but saw no time on the pitch. Playing a similar style to Toronto FC's Jonathan Osorio, but seven years younger, Choiniere is said to be the fittest player in the Montréal squad. But Choinière is not just a runner; he plays with a drive and creative purpose that the Canadian men's team could benefit from.
With Osorio out for weeks with a knee injury, John Herdman could opt for Choinière as a like-for-like replacement in his squad. Choinière's efforts this season have demonstrated his abilities at both ends of the pitch. A CanMNT selection is warranted. If anyone looks ready for national team action, it is Mathieu Choinière.
Derek Cornelius, central defender, Malmö FF
Cornelius' name has been bandied about the Canadian men's team circles since Herdman first called him up in 2018. Now anchoring the back line for new club Malmö FF in Sweden's Allsvenskan, the former Vancouver Whitecaps man has been a key factor in the team going undefeated so far this season and surrendering just six goals from nine matches. His 7.44 average Fotmob rating since joining Malmö this spring provides ample proof of this.
Cornelius has been lurking about the periphery of the CanMNT for several years but has not been able to nail down a consistent spot. With the rise of both Kamal Miller and Scott Kennedy as preferred options at left centre-back of late, Cornelius has found chances with the senior national squad few and far between.
It is not as though Cornelius has not put in good performances for Les Rouges. He captained Canada's U-23 squad in their unsuccessful bid for Olympic qualification two years ago and, Tajon Buchanan excepted, was Canada's best player on that team. Cornelius also put in quality performances with the senior squad in Canada's 2-0 defeat of the USA at BMO Field in October 2019 CNL action, and again in the 0-0 draw in Jamaica in the last round of World Cup qualifying. Despite this, additional call-up and minutes have proven elusive for the 25-year-old, despite him being included in the 2022 World Cup 26-man roster.
However, his form over the past two years in both Greece and Sweden supports the inclusion of Cornelius in the final squad next month.
Victor Loturi, midfielder, Ross County FC
The recently turned 22-year-old Loturi is wrapping up his first season with Ross County in the Scottish Premiership after three seasons apprenticing in the Canadian Premier League with Cavalry FC. Upon arrival, Loturi was gradually introduced to the Scottish league by his manager Malky Mackay. However, it was not long before he earned his gaffer's trust and became an almost certain lock for the starting defensive midfield slot by November 2022. Loturi hasn't looked back, with his club manager encouraging him to earn his spot with Canada, as he did with his club.
Not one expected to contribute much to the offence, Loturi has managed a goal and two assists in 29 matches across all competitions with a goal-challenged club desperately fighting relegation. His most recent match against Motherwell on May 20 was a microcosm of Loturi's season. He was subbed out after 64 minutes, despite his team-high 7.1 Fotmob rating, with the match scoreless but his club urgently seeking a goal.
Loturi is a dual national whose parents hail from South Sudan. The stalwart defensive midfielder was first called up by Herdman for CNL qualifiers in March and was unlucky to not get his first minutes with the CanMNT in that window. It was rumoured he was being readied for his debut against Curaçao when an injury to Kennedy necessitated the introduction of fellow uncapped defender Kyle Hiebert in his stead.
The possibility of getting another call looks promising for Loturi with several regulars in the Canadian midfield currently out with injury, out of form, or decidedly in the twilight of their careers. It is one of those injured players, Piette, that Loturi is most like-for-like. With the development of Loturi, Piette is no longer the only pure '6' available to Herdman, and in Piette's absence Loturi is the logical choice to assume his role next month
Dominick Zator, central defender, Korona Kielce
Zator has been quietly, but quickly, making his case for inclusion to the CanMNT on a regular basis. The 28-year-old was a winter signing for Korona Kielce of the Polish Ekstraklasa after completing four stellar seasons in the CPL with Cavalry and York United FC.
Since making the move, Zator has played 16 matches, all as a starter and going the distance in all but one game. Twice nominated as the Fotmob player of the match, Zator has a 7.19 average player rating since making the move to Kielce. Zator's steady defensive presence has propelled recently promoted Korona Kielce out of the relegation zone.
Zator offers versatility and depth in Canada's backline as the 6'2" defender can play as a right-sided centre-back or as a right full-back. This versatility is known to be coveted by Herdman. Defensively reliable, Zator is known for his aerial prowess at both ends of the pitch.
Zator was most recently called to the national team in March of this year, where he was another from that squad who was unlucky to not see minutes on the pitch. But RCB is not a position where Canada has an abundance of options, let alone options in form. After 36-year-old Steven Vitoria, the quality and quantity drop off. Sooner rather than later, Zator may find a need for his services. His play of late has certainly merited a call. A Gold Cup call seems like the more likely for Zator this summer.
Jacob Shaffelburg, winger, Nashville SC
Rising up phoenix-like from the ashes of his 2022 season in Toronto, Shaffelburg has been on fire since his move to Nashville. Shaffelburg has been unshackled from playing full-back and is back to playing further up the pitch using his speed to again make opposing defences uncomfortable.
This year in Music City, Shaffelburg has three goals and two assists and has drawn a couple of penalties in his 13 matches to date. His 700 minutes on the pitch so far is setting a pace to easily surpass his previous record of 995 minutes in a season. While his form may not have been consistent, Shaffelburg's early exploits did not go unnoticed as he was selected to the MLS Team of the Matchweek twice in three games.
Shaffelburg can play, and has played, everywhere along the left side for Nashville this campaign although full-back is not his strength. He has also played in various roles along the top of the lineup as well. As noted previously, Herdman values this kind of positional flexibility.
Not new to the CanMNT set-up, Shaffelburg is another, like Cornelius, who has been hanging about the periphery of the national team and given the occasional call-up. The obstacle preventing more national team calls for Shaffelburg is Alphonso Davies and other wingers favoured by Herdman. Key to Shaffelburg's selection may be whether Davies and Tajon Buchanan have recovered sufficiently from their late-season injuries. Other wingers such as Theo Corbeanu and veteran Junior Hoilett have also seen long stretches on the sideline this year. In the unfortunate event Davies or Buchanan are absent, Shaffelburg has made a sufficiently compelling case to seize the opportunity this presents.
Jacen Russell-Rowe, forward, Columbus Crew SC
Two Crew teammates are among the most deserving of a CanMNT call-up. We will begin with Russell-Rowe. Formerly in TFC's system, Russell-Rowe moved to the Columbus organization in 2022, beginning the year with Columbus' Next Pro affiliate where he obliterated the league's defences with 26 goals and seven assists in 23 matches in all competitions. Now a part of Columbus' senior team, Russell-Rowe has found minutes harder to come by, with the majority of his appearances coming off the bench.
Even so, Russell-Rowe has a physical presence with deceptive speed to lead the line. The 20-year-old striker has two goals and an assist in 311 minutes across 13 appearances this season, but all three of his goal contributions have come in the two games he started.
Part of what has made Russell-Rowe's production so compelling has been the link-up play with fellow Canadian, wing-back Mo Farsi. Farsi also seemed to warrant a call-up but has reportedly turned down Herdman's offer for now.
Russell-Rowe might just be the most deserving of Canada's forwards, outside automatic selections Cyle Larin and Jonathan David, to warrant inclusion on the 23-man roster next month. There is no doubt that this partially comes down to the form of the usual support cast up top. Lucas Cavallini has again gone cold after a productive start in his return campaign in Liga MX. Ike Ugbo has had a forgettable season with ES Troyes AC, and Ayo Akinola has still not found his pre-knee injury form despite having been cleared to play nearly a year ago.
Russell-Rowe could be in competition with Charles-Andreas Brym for a third or fourth striker role in the Canada squad next month. If not the CNL, then the Gold Cup could be Russell-Rowe's moment to step into the CanMNT. After looking like the dark horse among Canada's forward corps, he now looks to be jockeying to be the frontrunner to back up David and Larin.
Aidan Morris, midfielder, Columbus Crew SC
Last but not least is the second Canadian from the Crew worthy of selection to the final June CanMNT roster. Morris is a surprise inclusion to the preliminary list not because of his play, but because no one knew he was eligible. Unbeknownst to most Canadians was that the young midfielder had Canadian roots through his father.
Intriguingly, Morris has shown up on two nations' preliminary lists for the CNL. Florida born and raised, Morris actually played for USMNT in recent matches against Mexico (January) and Serbia (April). Because Morris has played these two friendlies, he will be required to make his official one-time switch with FIFA if he is to play for Canada.
Morris made his Columbus debut in July 2020 as an 18-year-old. Now 21, he plays as a deep-lying pivot in a role analogous to what Stephen Eustáquio commonly plays. Morris has excelled in the role with Columbus. His 7.83 average player rating on Fotmob ranks third among MLS players, only behind teammate Lucas Zelarayan and Argentine World Cup winner Thiago Almeda. Morris has twice been selected to the MLS Team of the Matchweek, and has three goals and an assist in 1050 minutes across 12 appearances, mostly starts.
Since Morris' inclusion on Canada's preliminary list, there have been several comments from US fans downplaying his potential loss. But there is no doubt Morris would be a coup of sorts for Canada, where the pool of young midfielders of his quality is not so deep. With many Canadian midfielders, such as Piette, Osorio, and Mark-Anthony Kaye destined to be in their 30s when the next World Cup occurs in 2026, there's a pressing need to move younger at this position.
Many of the core of Canada's midfield have been battling injuries or mixed match form of late. The acquisition of Morris now would be another scouting victory of sorts for Herdman. It appears the only question left is whether Morris is willing to commit.
---
---