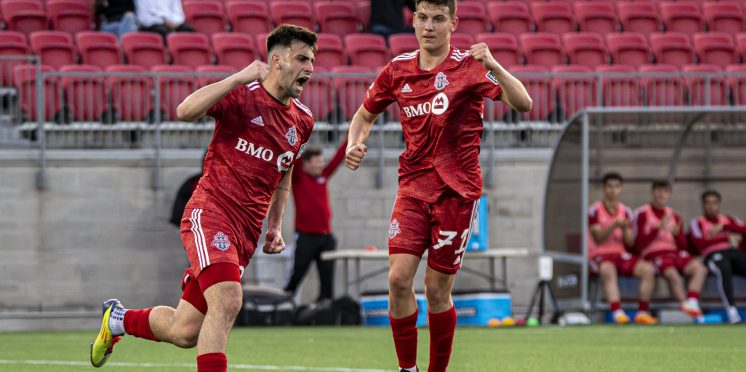 Toronto FC II come back from two goals down to beat Chicago Fire II
On a night where people around the city were setting off Victoria Day long weekend fireworks, the Young Reds created some fireworks of their own at York Lions Stadium. After going down 2-0 early in the second half, TFC II scored three unanswered goals against Chicago Fire II to earn their second win of the season.
A week after being on the losing end of a 3-2 scoreline to New England Revolution II, Toronto concluded their three-game home stand with a 3-2 victory on Sunday night.
The importance of Sunday's comeback was not lost on Toronto FC II head coach Gianni Cimini.
"We really want to just understand what it takes to win," Cimini said post-match. "The situation for us has been where we're up 3-2 in the 85th minute and giving points to the opposition, and today was the reverse. To have that shift was really good for us too, we want to build on that feeling."
Cimini had three key players back at his disposal for Sunday's match. Markus Cimermancic, Antony Curic and Jordan Faria were all in the starting XI for the MLS NEXT Pro side after featuring in Toronto FC's matchday squad against Austin FC on Saturday night in Texas. Faria made his first team debut, subbing into the game in the 67th minute, replacing Federico Bernardeschi.
Chicago came out firing, producing the first chance of the match in the 5th minute. A cross sent to the back post that found Omari Glasgow, his shot at goal snuck underneath goalkeeper Luka Gavran but the ball subsequently trickled out of TFC's danger zone.
Minutes 13 and 23 could be dubbed "block party moments." Firstly, Curic got back in time to sacrifice his body and make a crucial block after a TFC giveaway in their own half. 10 minutes later, it was Lazar Stefanovic's turn to make a block which led to another corner for the visitors – one of their five corners in the first half.
TFC II defender Adam Pearlman has been solid for the Young Reds, with some of the TFC faithful even voicing their opinions that he should be given a shot in the first team. Pearlman put his defensive abilities on display in the 27th minute as he had to retreat deep into his half to halt a Fire attack which began with a risky pass that was easily intercepted by the visitors.
At the half hour mark, Chicago was awarded a penalty after Jesus Batiz committed a handball in the box. Harold Osorio tucked away the penalty, leaving Gavran rooted to the spot.
Most of the halftime stats favoured Chicago: 53.1 per cent possession, seven shots, 219 passes and 15 crosses to Toronto's zero. The best statistic that TFC had control of? Clearances, 18 of them to be exact – goes to show how impactful the Fire were when going forward.
After a quiet first 45, Rohan Goulbourne was replaced by 16 year-old defender Theo Rigopoulos.
The team from Illinois doubled their advantage in the 48th minute with a goal from Michael Nesci. A clever turn from Nesci caught Stefanovic going the other way and the attacker's near post shot beat Gavran.
But, only two minutes later, Toronto got a goal back through Julian Altobelli, his first of the season. Matthew Catavolo's ball from the corner went directly to the back post, and Altobelli timed his finish well with a convincingly struck volley.
Altobelli praised Catavolo post-match when asked about his goal: "I knew Matt is always clipping that ball to the back post off the corner at the training grounds. The first thing I thought of was to create space off the defender and get to that back post and slot it in," Altobelli said.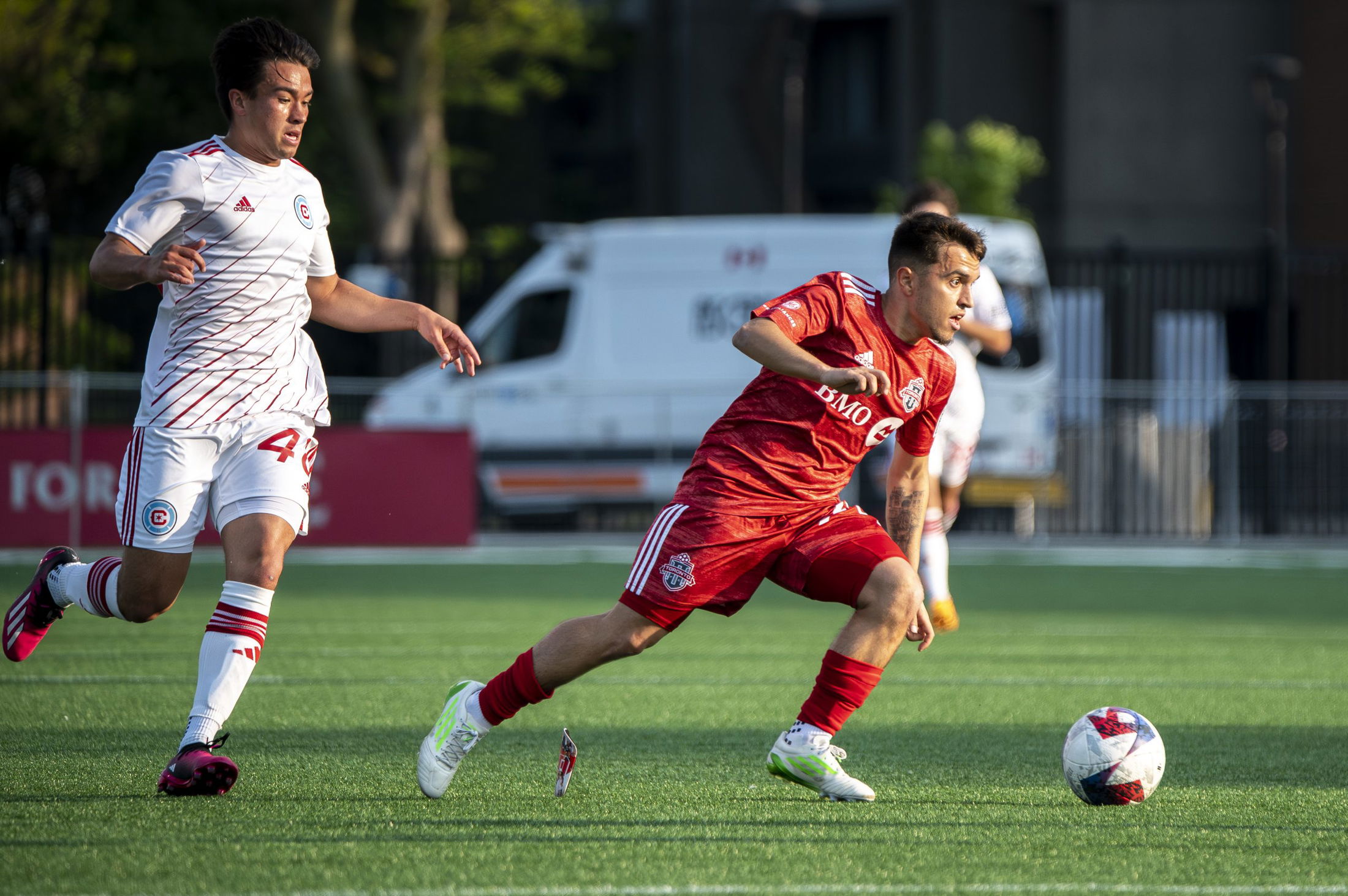 Referee Mario Al-Ayass kept play flowing throughout the match, even in the 54th when Jesus Batiz was convinced he earned a penalty for the hosts after a powerful run through the opposing half and being brought down in the box. The reactions from the TFC II bench spoke volumes, they were incensed that nothing was given.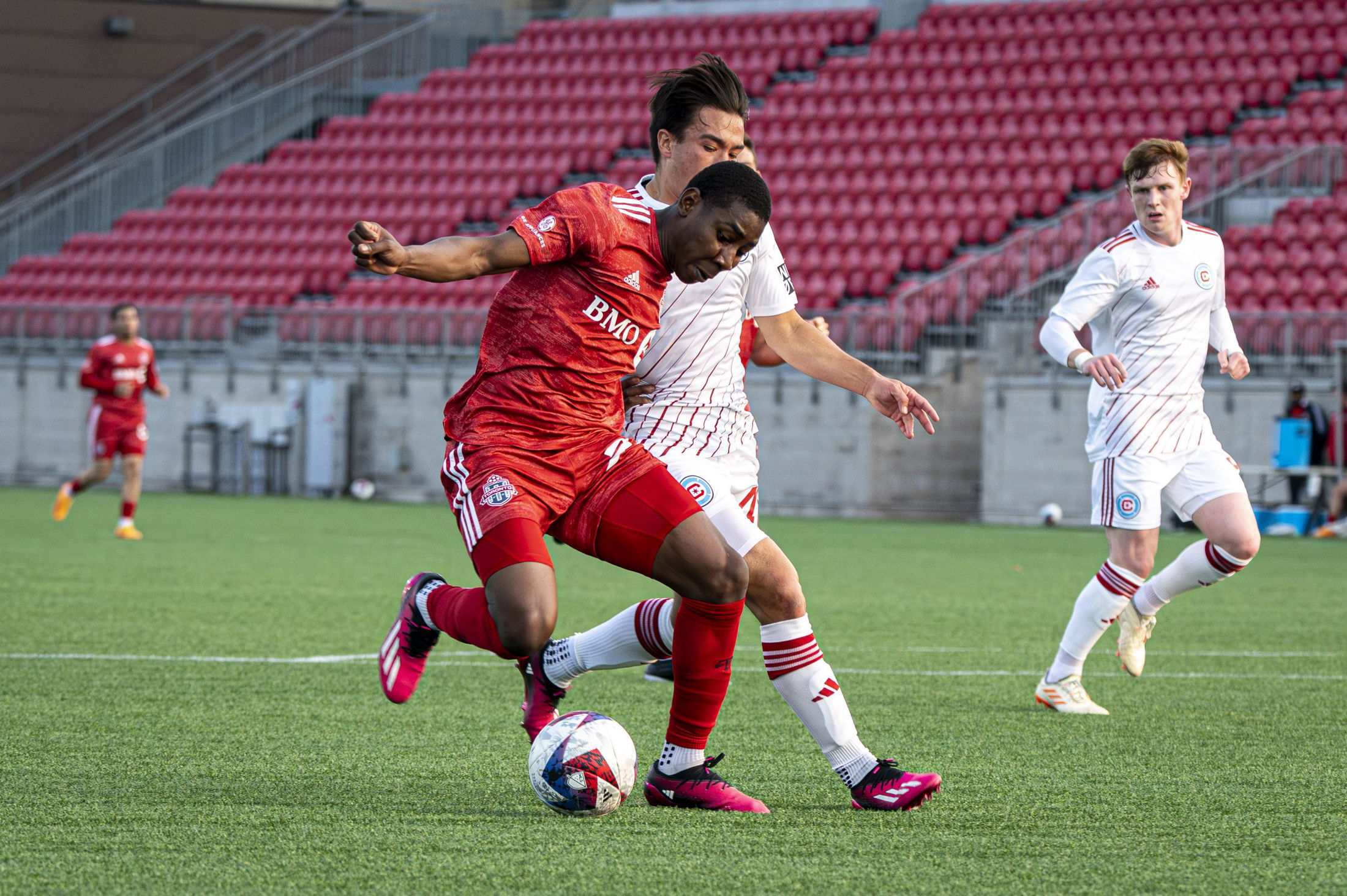 Altobelli made it a brace for himself 10 minutes after the penalty shout, he was the first to react to the rebound which was created from a save by Fire II 'keeper Mihajlo Mišković.
Altobelli described his view of the second goal: "I always know the rebound is coming at the top of the box. That's where I'm always at, that's a position that I love to get in and it fell right to me, and I finished it perfectly."
The Woodbridge, Ontario native thought he completed a hat-trick in the 69th minute, though the goal was called back after it was confirmed that he used his hand to control the ball in the build-up to the disallowed goal.
Faria was substituted in the 70th minute for striker Alec Diaz. A commendable showing from Faria, the night after making his Toronto FC debut less than 24 hours before Sunday's kickoff.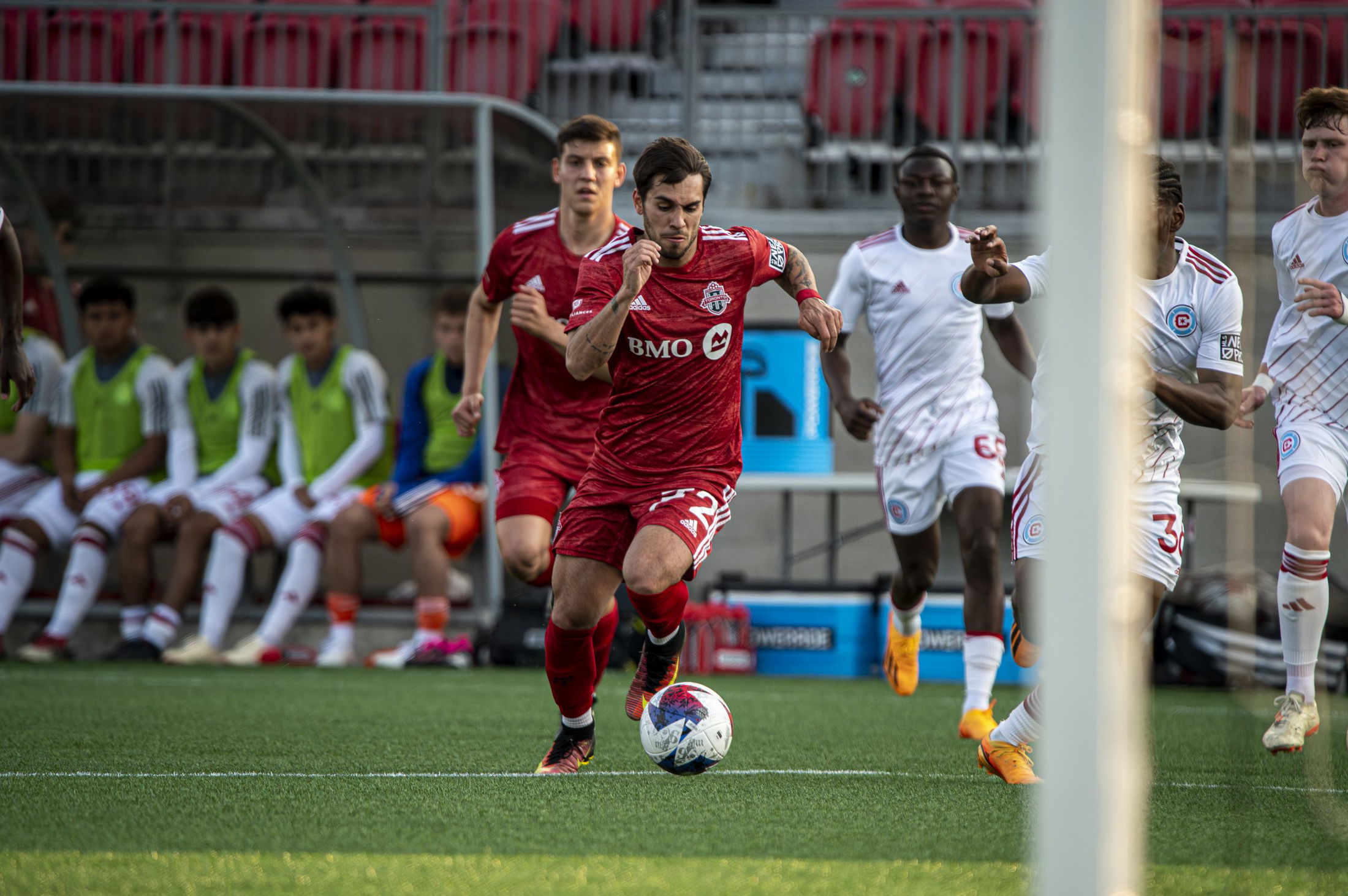 Alec Diaz would go on to score the game-winner in the 80th minute.
"I saw Cimer [Cimermancic] coming in and the defenders dropping off, so I decided to drop off – get the ball, drive into space, find Alec on the run and it was a great finish by him."
Altobelli on what this important result does for the squad moving forward:
"It was amazing. Coming up in the next seven days we have to play another two games, it's going to be another quick turnaround. We all need to get our bodies rested, and this is a great push for us going on the road for the next two games. I'm sure the team will come out flying," said Altobelli.
Coach Cimini spoke highly about Altobelli, who played a part in all three goals for his side Sunday night.
"He prides himself in his ability to finish. When he got the moments to get the goals, he did. His first goal really lights a fire under us and it changes things for us. For him to have the two goals is really good for us," Cimini said.
Cimini was impressed by the resilience that his team showed after going down 2-0.
"It was a tale of two halves. We talked at halftime, the guys weren't achieving their objectives and we were talking about winning your battles. You have to match their intensity because in my opinion, Chicago is one of the strongest teams in MLS NEXT Pro. For us to get that result, to come back from 2-0 down against a quality side says a lot."
The Young Reds sit at the bottom of the Eastern Conference with seven points from eight matches, and hit the road for their next two. First up is a trip to Queens, New York where they will take on NYCFC II at Belson Stadium in the hopes of stringing together back-to-back wins for the first time this season. Kick-off is set for 7 pm EST.
---
---