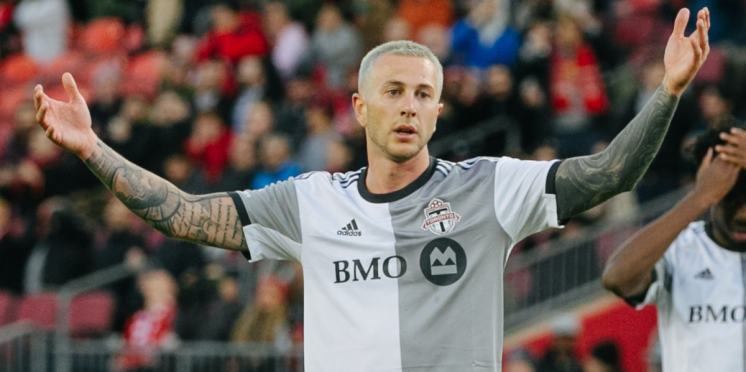 'It's impossible to play like this': Federico Bernardeschi goes off about tactics after Toronto FC's 1-0 loss to Austin FC
You don't need to speak Italian to know that Federico Bernardeschi is one frustrated footballer. Hell, you don't even need to understand football to know that.
Left alone Saturday night, with the previously unannounced absence of Lorenzo Insigne leaving Bernardeschi in a starting XI that included several young and inexperienced players and Richie Laryea on the right side of a front three, Bernardeschi was the most frustrated he's looked since arriving in Toronto with tattoos that make Tommy Lee jealous and a smile that's made him one of the most likable athletes in Toronto.
Bernardeschi does not like how things are going at Toronto FC.
"We need to change something, we need more tactics, we need an idea of how we play. This is the real problem for me, it's impossible to play like this," Bernardeschi said Saturday during his post-match availability after TFC conceded a stoppage-time winner in Austin, condemning TFC to their fifth loss in 14 regular season games.
"To play like this, it's difficult for everybody. We play long passes, we don't have any ideas of how to play. Unfortunately, we lost the game again, for me this is not good. I think this team, this city, the fans, everybody doesn't deserve this," Bernardeschi said.
The Italian wasn't on the pitch for Gyasi Zardes' match-winning goal because head coach Bob Bradley opted to remove his prized Italian in the 66th minute for debutant Jordan Faria, a move that set TFC Twitter on fire.
Shortly before Bernardeschi was substituted, the broadcast cameras showed the Italian visibly frustrated with Kobe Franklin. The 20-year-old had dribbled the ball halfway up the pitch and unleashed a shot that was blocked by an Austin defender. Franklin did have noticeably better options, including Bernardeschi who was waiting to be fed a through ball down the left side.
"When a player has the ball, we don't have ideas for the movement of another player. If you create [chances] by yourself? Good. If you have three, four [opposing] players around you, it's impossible," said Bernardeschi, when asked about the lack of support around him.
"When the player has the ball, we don't know how to pass. This is the real problem. We lose every game, we tie, sometimes we win. I can't believe this, this is not good for the young players, they need to grow up with an idea of football.
"The players with personality need to help us understand and follow the idea of football – but we need the idea of football, this is the real situation," Bernardeschi said.
TFC attempted just 300 passes Saturday night against Austin FC, with an accuracy rate of less than 70 percent. With just 38 percent possession, the Reds managed only three shot attempts and didn't force Austin to make a single save.
"This is another problem, we cannot score without shooting. If we don't shoot at the goal, we can't score," Bernardeschi professed.
Only the New York Red Bulls and CF Montréal have managed fewer goals in the Eastern Conference than Toronto FC's 13 this season. At least that's four goals better than Sporting KC, which at least means TFC aren't dead last.
"I'm really proud of the team and about every player because it's difficult to play like this," Bernardeschi added. "Every week, we found a mentality to keep going but it's difficult; this is the reality. I think the guys have to be proud about their job on the field. I see every training, the young guy, the experienced guy, they put everything on the field. For me, we need something different," Bernardeschi concluded.
Will there be a different manager in the dugout when Wayne Rooney's D.C. United come to town next weekend?
What do you think of Bernardeschi's comments Saturday night? Let us know in the new WTR comments section.
---
---