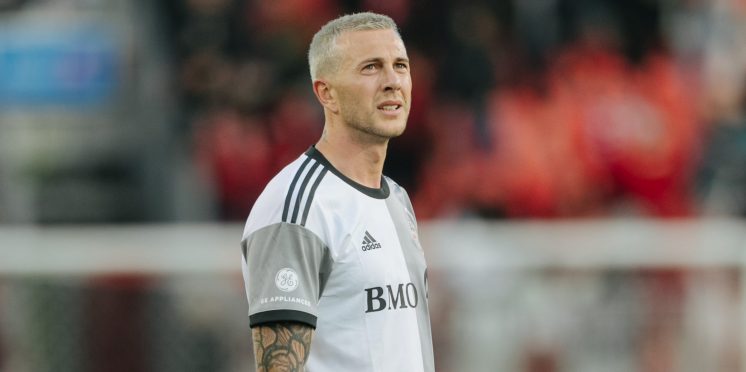 Toronto FC concede stoppage time goal to lose in Austin
You can't win games if you can't score goals.
Toronto FC are still yet to score in an MLS match this month. TFC registered zero shots on target Saturday night against Austin FC, in a 1-0 loss that will undoubtedly frustrate both the club and its fans.
Lorenzo Insigne was not included in the squad Saturday, to the surprise of practically everyone. Without the Italian or captain Michael Bradley, Richie Laryea was handed the captain's armband and started on the right side of a front-three next to C.J. Sapong and Federico Bernardeschi.
Themi Antonoglou started his first match for the club at left-wingback, while Matt Hedges made his return to the starting XI for the first time since April 8th and Mark-Anthony Kaye came back into the team after a brief two-match absence.
The first significant action occurred in the first 10 minutes when Austin FC's Irish full-back Jon Gallagher ran through TFC's half untouched before Kobe Franklin intervened with a challenge to halt the Austin attack.
Maxi Urruti, who came to MLS as a short-lived Toronto FC Designated Player, came very close to scoring against his former club in the 15th minute when his shot struck the base of the post.
Bob Bradley made two changes at the half-time interval, taking Antonoglou and Brandon Servania off for Hugo Mbongue and Kosi Thompson.
Goalkeeper Sean Johnson made a crucial save on Daniel Pereira's shot in the 59th minute. He is one of the few players that is currently keeping this team afloat, although some would argue that this team is not.
Four minutes later, Aimé Mabika blocked a shot from Urruti that was headed towards goal.
On a quieter evening without much help up top yet again, Federico Bernardeschi was substituted in the 66th minute for debutant Jordan Faria. He looked visibly shocked to see his number on the substitute's board — Berna went off in his post-match availability, which I will get to shortly.
Former Houston Dynamo defender Adam Lundqvist wasn't far away from scoring what would've been an impressive goal. His powerful shot from outside the box did not miss by much in the 88th minute.
It looked as though a lacklustre TFC, that looked lost for ideas and disconnected, was going to leave Q2 Stadium with a very valuable point from a scoreless draw. But, in the first minute of stoppage time, the hosts found a hero in substitute and wily MLS veteran Gyasi Zardes.
TFC embraced Austin's city motto of "Keep Austin Weird" as they conceded quite the odd goal as a result of not clearing the ball.
In post-match media availability, coach Bob Bradley shared his two cents on tonight's proceedings and his team's reaction.
"It's a very tough loss. In the first half, we struggled to connect passes. They were all devastated, there's no words in that moment. It's a very tough goal to give up at the end," said Bradley.
With the team now winless in their last four league matches, Bradley gave his view on this difficult stretch.
"Each game is different. I think there are some games where we created advantages and have some pretty good chances, some opportunities on set pieces. Tonight's a night where there's not much. I thought our passing into the midfield against their pressure wasn't good enough."
Bradley explained his decision to take off Bernardeschi midway through the second half when asked if the move was injury-related.
"No, Fede had put a lot into it. After the game on Wednesday, he had a little bit of a stomach bug. It's humid down here and I thought he gave us 67 big minutes," Bradley said.
Bradley was also asked to explain the surprise absence of his other star Italian.
"There was a play in the match on Wednesday, [Insigne] stepped in a funny way – was still struggling yesterday. In the end, he was not able to work through it. Hopefully, it's not a big thing," said Bradley.
Federico Bernardeschi was brutally honest with his answers on the post-match media Zoom call.
"We need to change something, we need more tactics, we need an idea of how we play. This is the real problem for me, it's impossible to play like this," Bernardeschi said.
"To play like this, it's difficult for everybody. We play long passes, we don't have any ideas of how to play. Unfortunately, we lost the game again, for me this is not good. I think this team, this city, the fans, everybody doesn't deserve this," the 2020 European champion professed.
Shortly before Bernardeschi was substituted, the broadcast cameras showed the Italian visibly frustrated with Kobe Franklin after the 20-year-old carried the ball halfway up the pitch and unleashed a shot that was blocked, rather than feed Bernardeschi with a through ball on the left side.
"When the player has the ball, we don't know how to pass. This is the real problem. We lose every game, we tie, sometimes we win. I can't believe this, this is not good for the young players, they need to grow up with an idea of football. The players with personality need to help us understand and follow the idea of football – but we need the idea of football, this is the real situation," Bernardeschi said.
TFC attempted just 300 passes Saturday night, with an accuracy rate of less than 70 percent. With just 38 percent possession, the Reds had just three shot attempts without once testing Austin goalkeeper Brad Stuver.
"This is another problem, we cannot score without shooting. If we don't shoot at the goal, we can't score," Bernardeschi added.
A theme is emerging of Bernardeschi being on an island going forward with little to no help from his teammates.
"When a player has the ball, we don't have ideas for the movement of another player. If you create [chances] by yourself? Good. If you have three, four [opposing] players around you, it's impossible," said Bernardeschi, when asked about the lack of support around him.
The man from Carrara ended the press conference with these comments:
"I'm really proud of the team and about every player because it's difficult to play like this. Every week, we found a mentality to keep going but it's difficult – this is the reality. I think the guys have to be proud about their job on the field. I see every training, the young guy, the experienced guy, they put everything on the field. For me, we need something different," Bernardeschi concluded.
Will Bob Bradley still be in the dugout when Toronto FC host D.C. United in their next match Saturday night at BMO Field? We'll have to wait and see.
---
---