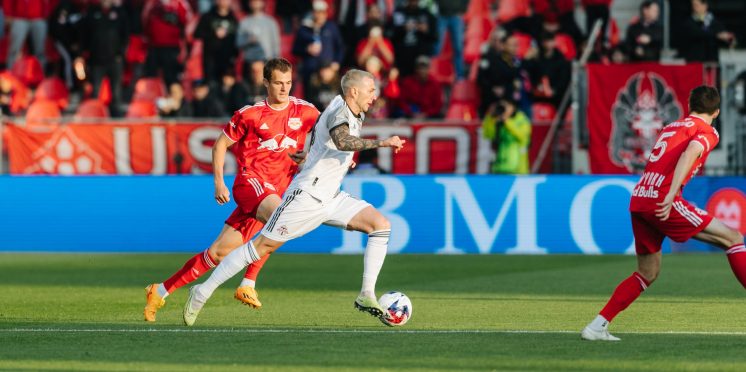 FT: Toronto FC 0-0 New York Red Bulls – Game thread, preview, how to watch
Live Thread:
FT – That's a wrap. It finishes goalless in Toronto as TFC's winless run extends to four in all competitions.
90′ – Antonoglou gets a great opportunity late but his shot skips wide to the left.
90′ – Three minutes of extra time will be added.
89′ – Hugo Mbongue enters the match in place of Bernardeschi.
85′ – Bernardeschi on the break tries to find Insigne with a squared ball but it's intercepted. Corner TFC.
80′ – So close! Insigne's header is denied by Coronel after a killer cross from Bernardeschi.
75′ – Peter Stroud picks up a yellow for the visitors.
72′ – The away side make their first changes of the game. Cory Burke comes on for Manoel and O'Vonte Mullings replaces Cameron Harper.
69′ – Another chance on the break, this time it's Antonoglou dashing down the left flank. His cross aimed for Akinola is put out for a corner.
67′ – Akinola is played through and the striker attempts a backheel to find Mabika who made a run from centre-back. The pass doesn't come off.
60′ – Bernardeschi wins TFC another corner on the hour mark.
55′ – Johnson flies to his left to stop a curling effort from Tom Barlow.
48′ – Manoel is so close to finding an equalizer for the Red Bulls but his chipped effort dings off the crossbar! An early scare for TFC in the opening minutes of the second period.
47′ – Akinola gets an early chance in front of goal but his shot glides past the far post.
46′ – Second half action kicks off with a change at striker. Akinola enters the match at halftime in place of Sapong.
HT – We are goalless at the interval.
45′ – Fede's free kick is saved by a diving Coronel.
45′ – Manoel is shown the first yellow card of the game. Free kick to TFC in a potentially dangerous area.
41′ – Kerr is forced out of action due to injury. Antonoglou comes on to replace him in the dying minutes of the first half.
38′ – The match is put on pause after Kerr goes down. Toronto's forward is receiving some treatment from the medical staff.
33′ – Johnson comes out to punch a ball from danger but it only goes to New York's Cameron Harper. The TFC keeper makes a quick reaction stop to deny his effort on goal.
30′ – From the ensuing corner, Sapong's header from ten yards out goes just wide of the post! Toronto have gotten some good looks.
29′ – Insigne finds Bernardeschi in the box but his shot is blocked by John Tolkin! Corner TFC.
26′ – Bernardeschi wins TFC their first corner of the match. His ball finds Sapong at the back post but the striker is unable to convert the header!
24′ – A good chance for New York goes to waste as Omir Fernandez is unable to get his strike from close-range on target.
21′ – The visitors seem to be growing into the game as the half goes on. The Red Bulls are beginning to control the match in TFC's end of the pitch more and more as the minutes tick by.
16′ – It's been fairly stop and start here in the opening minutes. Insigne's shot on target remains the only real opportunity for either side.
7′ – A good early chance on the break for Insigne but the Italian's shot is easily dealt with by Colonel in goal. Kerr receives some treatment after a clash of heads with Dylan Nealis but the pair look good to continue.
1′ – The hosts get us underway at BMO. Come on you Reds!
7:25 pm – Views from warmups, courtesy of Sean Pollock.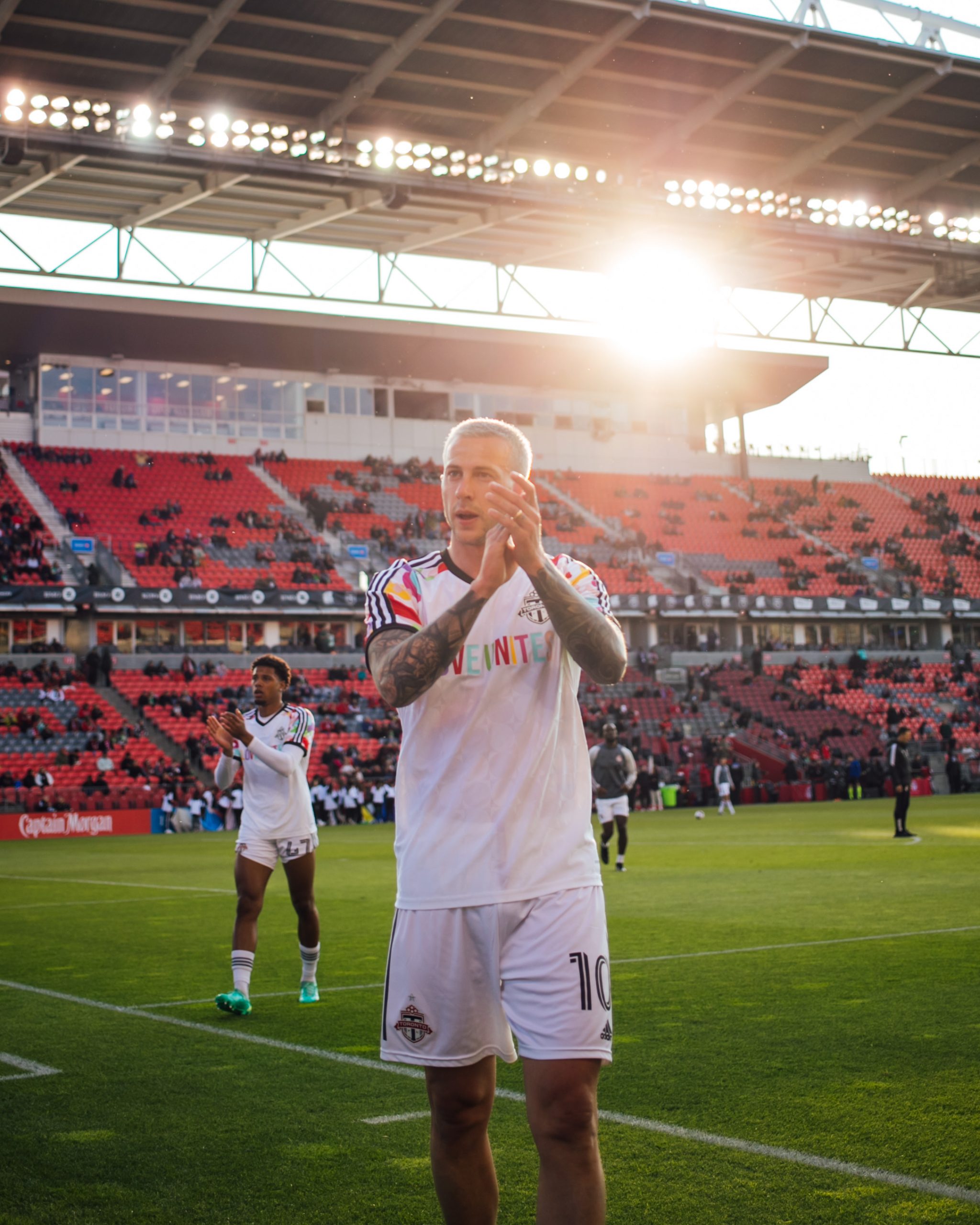 6:55 pm – Mark-Anthony Kaye is a surprise omission from tonight's contest. Cristian Gutierrez is part of his first matchday squad, with the left-back on the bench to start. Deandre Kerr is given his first start since the goalless draw in Nashville over a month ago.
6:30 pm – We're approaching kickoff here at BMO Field where it will be a battle between the two sides bottom and second bottom in the Eastern Conference. Both TFC and the visiting Red Bulls are missing key figures, but both sides will be equally desperate for all three points. Lineups will be in shortly. Don't forget to get your predicitons in here.
---
Starting XIs:
Toronto FC: Johnson; Petretta, Mabika, Laryea, Franklin; Servania, Thompson, Kerr; Insigne, Sapong, Bernardeschi
New York Red Bulls: Coronel; Tolkin, Stroud, Carmona, D. Nealis; Fernandez, Yearwood, Ndam, Harper; Barlow, Manoel
---
Match Preview via Aasim Hashim:
After a disappointing weekend in which Toronto FC lost to bitter rivals CF Montréal, the Reds will have to quickly lick their wounds and get ready for battle once again as they host the New York Red Bulls on Wednesday evening at BMO Field.
For some teams, a quick turnaround serves as a great opportunity to rectify the team's previous disappointing result or lack of form and put a strong performance together. If given the opportunity, head coach Bob Bradley would jump at the chance to take a break and hit the reset button on his squad.
The team's lack of form and mountain of injuries and the general sentiment around the club certainly needs a reset. Alas, we don't live in a perfect world and so Bradley will have to soldier on with what he has available.
Unsurprisingly, since Saturday's match-up, the club's injury list has not gotten any shorter. In fact, the already shorthanded Reds will be without the services of Jakhele Marshall-Rutty as the Canadian will serve a suspension on Wednesday night after being sent off against Montréal.
The Reds, who have now lost their last three matches in all competitions and enter this matchweek at the bottom of the Eastern Conference, need to correct many aspects of their game. While Bradley and his coaching staff can only fix so much without key pieces of the squad available, one thing that they can fix in the short-term is the attitude of their players. It's becoming more and more evident that this squad has players who are not playing for the badge on the front of their shirts.
For assurances that things can get better, the Reds can take a look across the field on Wednesday to see a club who have seemingly managed to change the course of their season. The Red Bulls, who most recently occupied the last spot in the East, have found immediate success after parting ways with their manager, Gerhard Struber.
A winless streak that saw the Red Bulls fail to win in seven consecutive matches was enough for the Red Bulls to replace Struber with interim head coach Troy Lesesne, who will serve as head coach until the end of this season. Since his appointment, Lesesne has guided NYRB to consecutive 1-0 victories in MLS league play and the U.S. Open Cup.
In their most recent outing, the Red Bulls were able to hold off their rivals New York City FC in front of their home crowd. American Omir Fernandez scored the winner in that fixture, just as he had done a few days earlier in the U.S. Open Cup against D.C. United.
The limited success that NYRB has had this season has come at home. Away from Red Bull Arena, NYRB have struggled this season, having picked no wins and three draws, in six matches on the road. It is quite a stark difference from the team that picked up nine wins on the road in 2022, most in the MLS, including spoiling the Reds' opening day with an emphatic 4-1 victory at BMO Field last season.
Despite the club's poor overall record, defence has not been the source of the Red Bulls' problem; instead, it's the fact that through 12 matches, the Red Bulls have conceded just 11 times, the second lowest in the Eastern Conference.
Leading the way at the heart of the New York defence have been Sean Nealis and Andres Reyes, who have appeared in all 12 matches this season. Unfortunately for the Red Bulls, however, both Nealis and Reyes will miss out on the trip north of the border as both players are suspended through yellow card accumulation. That is a stroke of fortuitous timing for TFC and an area that Toronto attackers should be able to exploit. That duo are just two of eight Red Bulls starters who have been ruled out of the clash with TFC.
New York has had the majority of success in this fixture and the Reds have failed on the road and at home against the Red Bulls. Including the aforementioned 4-1 victory at BMO Field, the Red Bulls have picked up at least one point in nine of the previous 10 matches in this fixture. The Reds' only win over the last 10 matches against NYRB came in a 3-1 victory at BMO back in 2019.
---
Match Details:
Opponent: New York Red Bulls
Kickoff: 7:30 pm
Watch: MLS Season Pass
Stadium: BMO Field, Toronto, Ont.
---
---