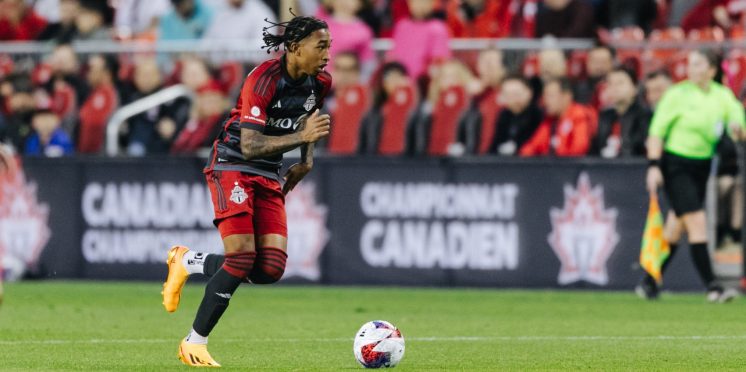 Toronto FC's Jahkeele Marshall-Rutty slapped with additional one-game suspension after Montréal mayhem
You knew the league office was going to have a lot to say after the chaos that ensued at Saputo Stadium following the final whistle after CF Montréal's second win over Toronto FC in a week. It's not good for TFC.
In a laundry list of disciplinary announcements on Tuesday the MLS Disciplinary Committee has found TFC and CFM "in violation of the Mass Confrontation Policy." That just sounds more serious when you realize there's an actual legal policy to deter chaos like we saw on Saturday night from happening.
Richie Laryea, C.J. Sapong and Montréal's Romell Quioto have been slapped with undisclosed fines for "inciting and/or escalating a mass confrontation." From the broadcast camera angle, a heated handshake between Bob Bradley and CF Montréal head coach Hernán Losada brought on an angry Laryea, who despite being shoved back by his manager had a few more words for Losada before the CFM bench, led by Romell Quioto, descended on the three-man argument. It looked like Quioto threw a slap punch at Laryea as the Honduran ran behind the Canadian. That brought a left handed shot from C.J. Sapong, and then complete chaos ensued.
The melee after the final whistle was just another black eye on what has quickly become a regular season spiralling out of control. And it got worse for TFC on Tuesday.
Left-wingback Jahkeele Marshall-Rutty was hit with an additional one-match suspension, plus an undisclosed fine for returning to the pitch "to engage in an inappropriate interaction with participants and inciting and/or escalating a mass confrontation" at the end of the game after having been sent off with a second yellow card in the 56th minute.
It was a rivalry game in every sense and it was physical. JMR was the first TFC player to end up in referee Chris Penso's book after a hard foul on Chinonso Offor in the 26th minute. He must've forgotten about that first-half booking because Marshall-Rutty was dealt a second yellow for time wasting just before the hour mark. Time wasting.
Bob Bradley knew he would be without his highly coveted No. 7 for Wednesday night's visit from the New York Red Bulls, but the extra game ban means JMR will miss Saturday's trip to Austin on as well.
Not good for a team playing their fourth game in 12 days and one that was missing 10 first-team players ahead of Saturday's drive up the 401.
Certainly feels like a long time ago that JMR was named to MLS Team of Matchweek 5 after the scoreless draw in San Jose, doesn't it?
Here's to hoping we're just writing about football after TFC face the third most important club in the Red Bull football pyramid on Wednesday night at BMO Field.
---
---