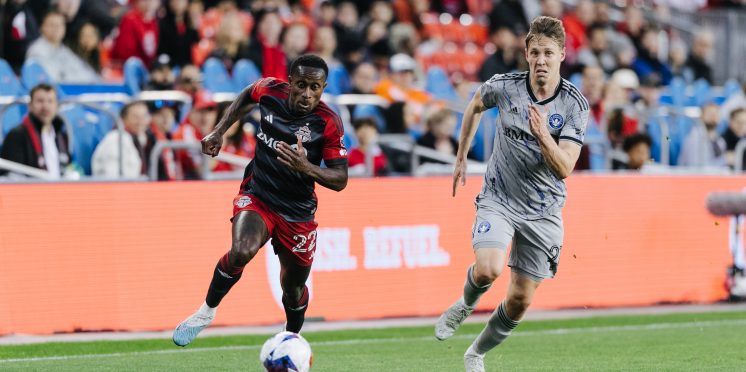 Anatomy of a Goal — CF Montréal's Lassi Lappalainen vs. Toronto FC
During MLS Rivalry Week, Toronto FC and CF Montréal faced off for the second time in 5 days. The 401 Derby, The Canadian Classique, The Two Solitudes Derby — whatever you want to call it — is always full of intrigue and emotion. This chapter of the rivalry had away supporters banned from Stade Saputo.
An in-form CF Montréal was victorious on Tuesday night, defeating the Reds 2-1 in Toronto. The loss eliminated TFC from the Voyageurs Cup.  Toronto had added incentive to perform well on Saturday amid continued questions surrounding this team and on-field performance. 
The first half of the match was pretty uneventful as both teams used a cautious approach. Montréal manager Hernán Losada decided to make two substitutions at half-time, Sean Rea and Lassi Lappalainen, to change the pace of the game. The pair made an instant impact in the attacking end of the pitch, and Lappalainen scored CFM's opening goal.
The Buildup
Despite a relatively respectable defensive effort in the first half, Toronto FC started the second half with incredibly disorganized defending.
Rather than use the space available on the pitch, TFC players attempted to dribble out of their own end. As seen above, it was not a successful clearing attempt. Montréal was playing a higher line and pressing Toronto, thus creating mistakes.
In the direct lead-up to the goal, Lorenzo Insigne plays the ball into space in an attempt to create an offensive movement. However, his touch was a bit heavy and CFM defender George Campbell intercepted the ball.
The Goal
Campbell, a centre-back (yes, a centre-back!), dribbles around four Toronto FC players, spots Lappalainen on the outside of the 18-yard box, and side-foots a pass.
Lappalainen puts a low shot into the box — or perhaps a cross? — which beats Sean Johnson on the wide side. Regardless of Lappalainen's intentions, the goal still counts.
What Went Wrong
Situational Awareness
Once mistakes are made in the defensive end of the pitch, it is natural to assume these mistakes will be addressed at some point during training. However, it does not seem these ideas are being implemented from practice into games.
Yes, injuries to key players have created a large issue so far this year. Saturday's match was a particularly difficult time to field a starting XI worthy of MLS. However, there were many simple errors that should not have been made.
Look at Aimé Makiba's positioning at the moment when Campbell makes the pass: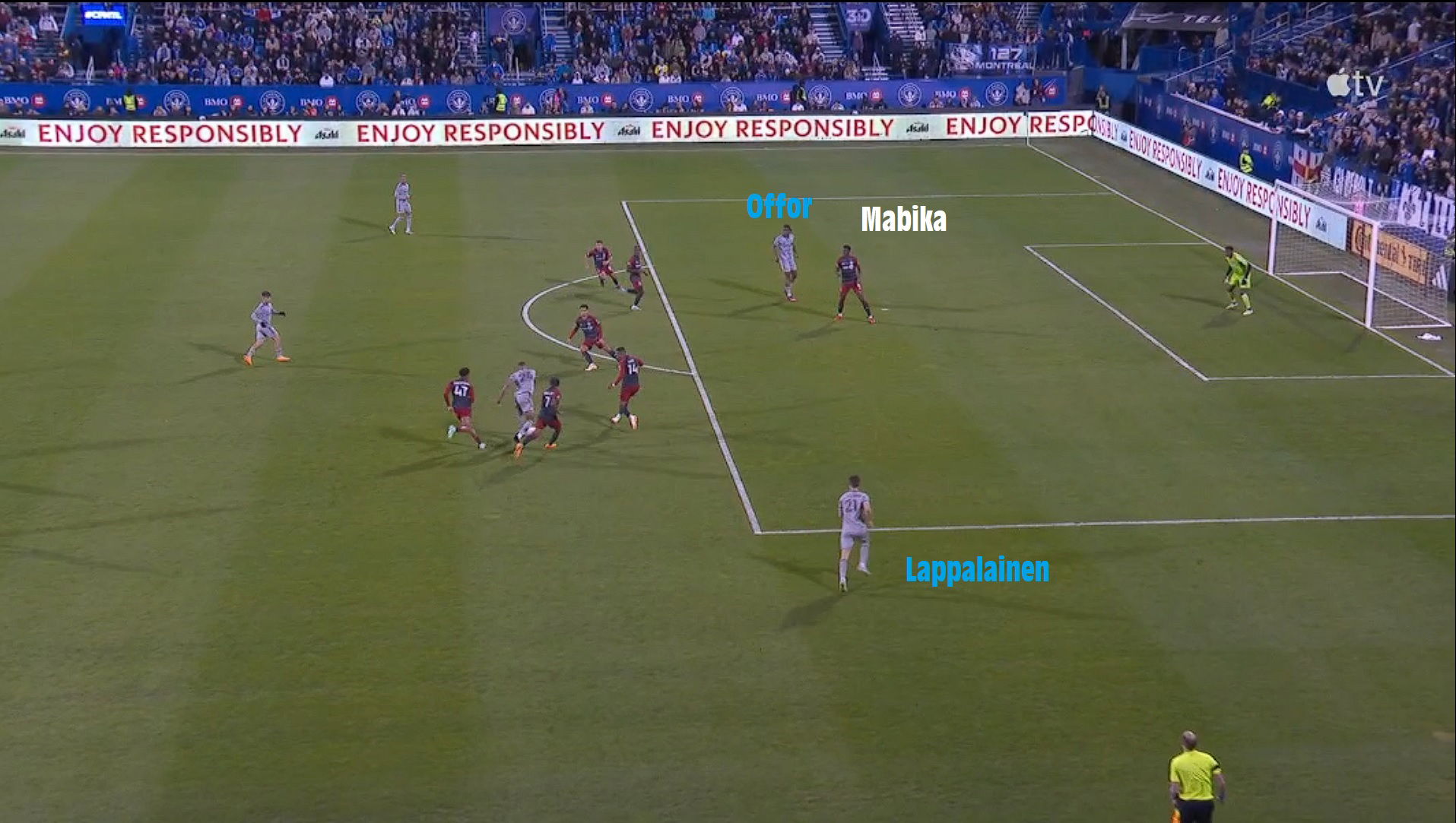 If he takes two giant steps (well, normal steps for Mabika) forward, he would have played Chinonso Offor and Lappalainen offside. Mabika doesn't move, and Lappalainen is allowed to walk in and shoot.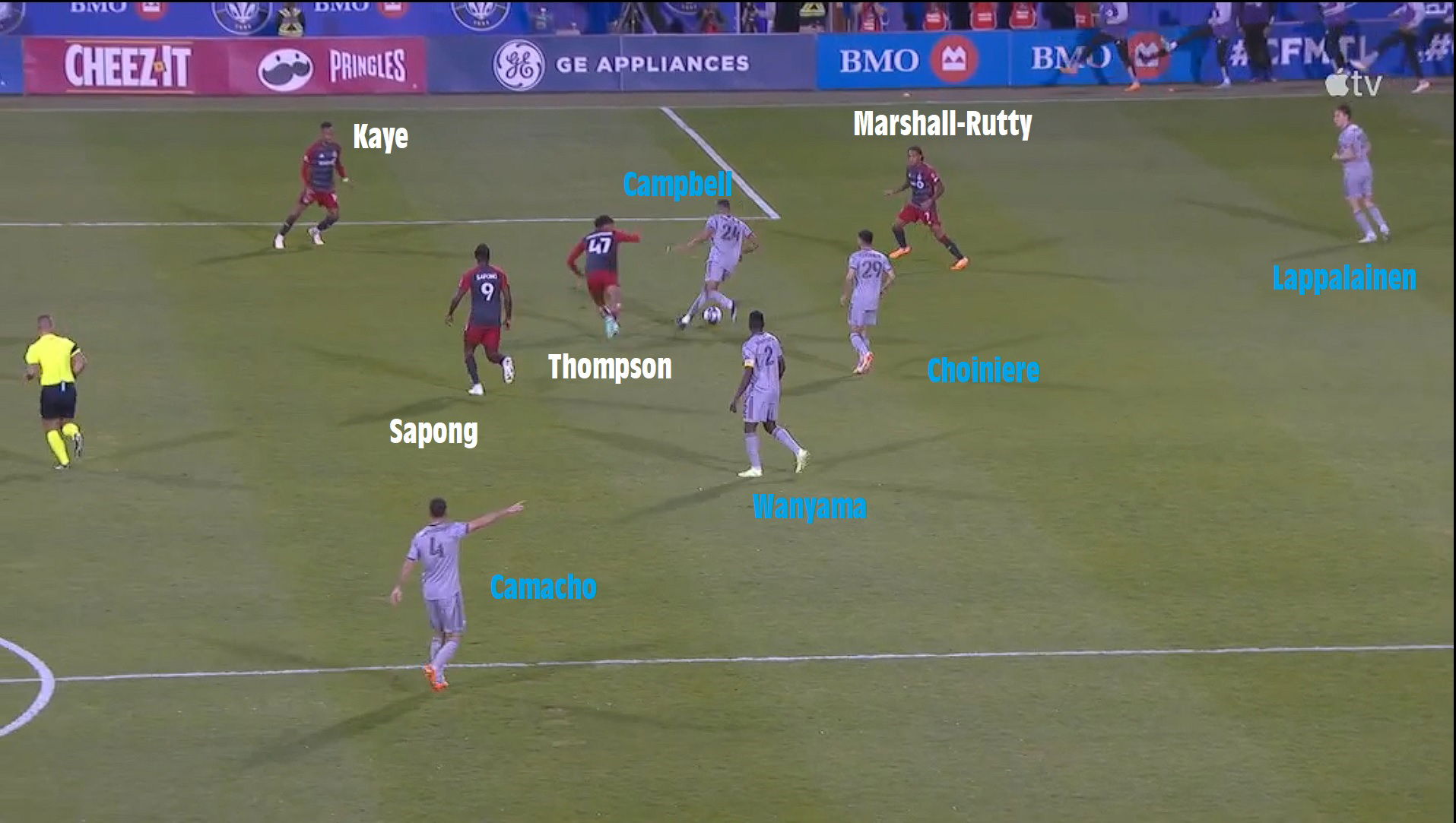 Jahkeele Marshall-Rutty has a choice to make at this moment: attack the ball or stay wide and try to prevent a pass.
What is telling is that CFM's Rudy Camacho is gesturing and probably shouting for Campbell to pass the ball out to Lappalainen. From this photo, it looks like the combination of Mark-Anthony Kaye and Kosi Thompson have Campbell covered.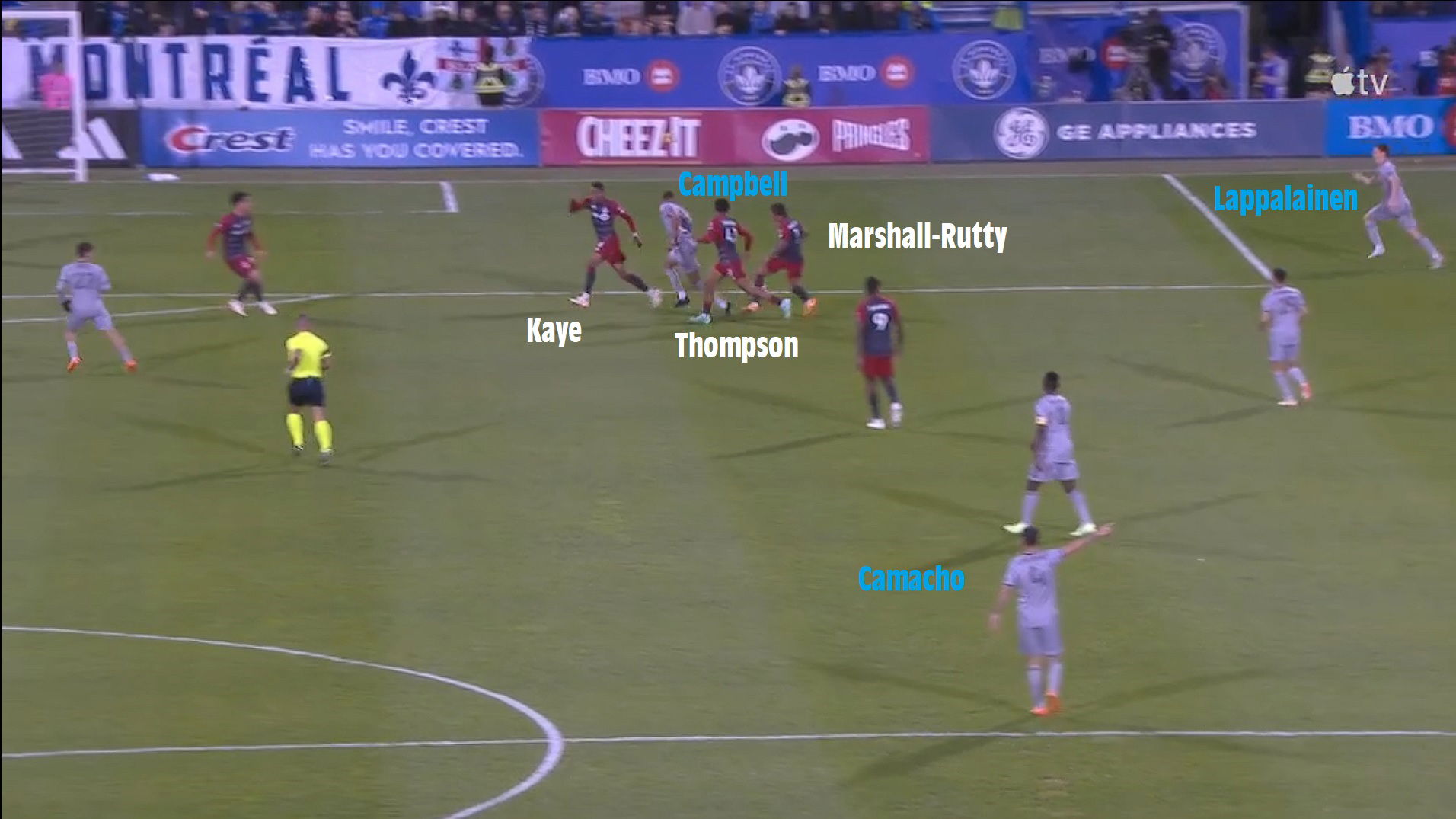 Marshall-Rutty decides to challenge Campbell for the ball, but does not arrive in time. This movement allows Campbell to pass it wide to Lappalainen.
While it's not fair to put the blame solely on one or two players in this buildup to the goal, it's evident that a lack of situational awareness is an issue. Also, if three players are chasing after a ball, chances are there's a significant lack of communication. Plays like this one should not be an issue at a professional level. If a more experienced player is on the pitch, it is his job to communicate with everyone else to ensure a cohesive defensive structure. It didn't happen.
Lack of Effort, Once Again
There is no passion! There is no vision! There is no aggression!
After Marshall-Rutty was sent off and Offor's goal 10 minutes later, it looked like Toronto lost the desire to play football. As mentioned in last week's Anatomy of a Goal, the team's negative body language has become a troublesome aspect of games. If TFC has trouble finding motivation to play against their rivals, there is not much more to be said on this matter. Something needs to give.
What Needs to Happen Next
With discontent abound after losing two matches to CF Montréal, many questions surround the team. Toronto FC has played in 12 league matches – which is roughly one-third of the way through the season. With 12 points, the team is only three points out of a playoff spot. However, the points per game is only 1.0, which is good enough for 34 points for the season. On average, it takes 43 or 44 points to make the playoffs.
Quite simply, it's not good enough.
The most troubling part of this latest stretch of matches is only one result in five matches. Toronto's trajectory seems to be downward at this point of the season, where the team is entering a very busy part of the schedule. With Wednesday's match against the New York Red Bulls, the Reds have five matches in 17 days. After their match at Minnesota on June 3, they will be halfway through their season.
This stretch of games will go a long way in determining the fate of the rest of the season — especially TFC personnel.
---
---