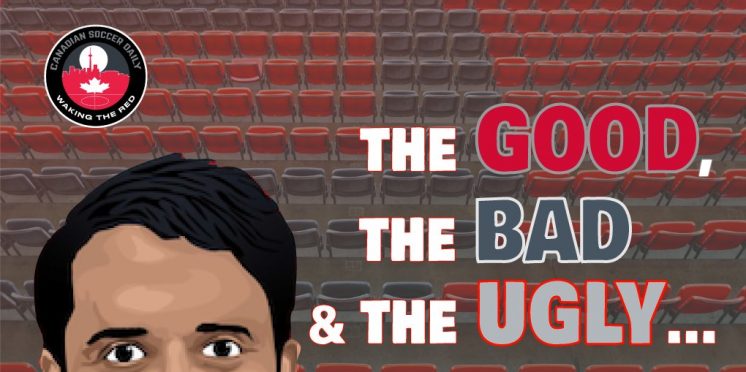 The Good, the Bad, and the Ugly – CF Montréal 2 – 0 Toronto FC
Ugh. Nuff said.
THE GOOD
I'm officially on holiday for a week – couldn't come quickly enough… We're going to see changes because we have to… No fights at Stade Saputo.
THE BAD
A frayed fanbase. We are better than internecine fighting… I still don't understand the lack of (extra, or any) security at both grounds for a derby match. Are you new? This reeks of cost-cutting and then blame-throwing. There is an onus to provide for a safe space from ALL parties. Transgressions have been made, but don't make it into a whole bunch of people in glass houses throwing megaphones, be better. Set the standard…
Mark-Anthony Kaye on the megaphone throwing incident: "[The fans] feel our disappointment just as much as we do. We have to respect them for that, but I think there's always a level of respect that they need to show in terms of their disappointment."#TFCLive pic.twitter.com/kF3dmPkdf9

— Michael Singh (@MichaelSingh94) May 14, 2023
THE UGLY
I don't even know what to say anymore. No fight. No tactics. No identity. No logic. Anti-reality. Have you ever seen a player tossed off, only to return 45 minutes later, still fully dressed, for the handbags at the end? Yeah, me neither, because it's absolute insanity. JMR can expect some kind of suspension on top of the standard one, amidst a major injury crisis, when it's supposed to be all hands on deck. I cannot anymore. I raise my hand. I don't understand. No ellipses. Make it make sense.
I don't know if I like this team…like a side from one or two players, the main personalities are generally hard to get behind. I know they are mostly good people, but I don't get the sense the fanbase is very connected to this team. That feeds into down vibes. #TFCLive

— Mike Newell (@FootballSaves) May 14, 2023
---
---