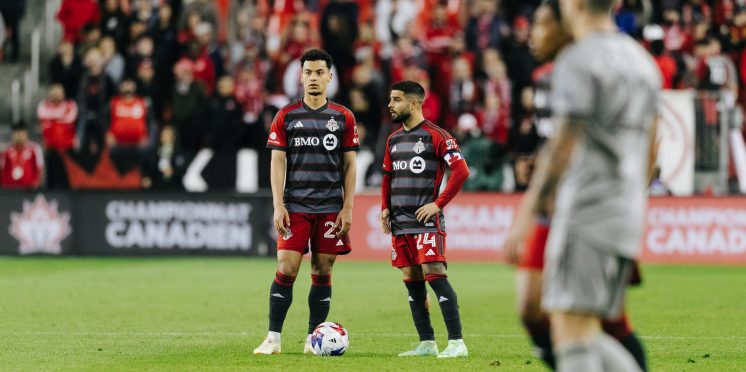 FT: CF Montréal 2-0 Toronto FC – WTR Game thread, preview, how to watch
Live Thread:
FT – CF Montréal 2-0 Toronto FC
90′ – Final TFC change as Antony Curic replaces Kobe Franklin for his senior debut.
87′ – Kobe Franklin comes flying in to block Ariel Lassiter's shot on goal.
80′ – Bob Bradley makes three more just moments later as Deandre Kerr, Ayo Akinola, and Themi Antonoglou come in for Lorenzo Insigne, Federico Bernardeschi, and Richie Laryea.
77′ – And there's TFC's first change of the evening, with Adama Diomande replacing C.J. Sapong.
74′ – Zachary Brault-Guillard looks to beat Sean Johnson at his near post, but the American international is equal to the Canadian's effort.
68′ – GOAL CF MONTRÉAL. Offor gets his goal. His second in MLS and second in the space of a week against TFC.
61′ – Slipshod TFC defending leads to an opportunity for Offor to double his side's lead, but the forward blazes it over the bar.
55′ – Marshall-Rutty gets a second yellow for time wasting. He's done for the night and with TFC already a goal down, they're now a man down too.
53′ – GOAL CF MONTRÉAL. Well, there it is, and it's the substitute Lassi Lappalainen who opens the scoring.
48′ – What a chance for the hosts as Mabika gets a vital foot on Choinière's effort from close range.
46′ – Back again for the second 45.
HT – CF Montréal 0-0 Toronto FC
44′ – Wish we could be providing more eventful updates, but alas, we're still goalless with TFC without a shot on target.
28′ – Offor's header floats over the bar, but that was quite the ball in from Aaron Herrera.
25′ – TFC's first recipient of a yellow card is JMR after a foul on Offor.
21′ – A mild game thus far wioth neither side able to take full advantage in the final third.
11′ – No shots for either side after just over ten minutes. Foreshadowing a timid affair?
3′ – Looks like Mark-Anthony Kaye is playing at centre-back alongside Aimé Mabika.
1′ – And off we go at Stade Saputo!
7:25 pm ET – Toronto FC has just one win in their last eight matches against CF Montréal in all competitions. That lone win came in the Canadian Championship in 2022.
7:00 pm ET – A notable absentee who wasn't initially ruled out is Raoul Pettreta, who has had his injury problems already this season.
6:55 pm ET – With TFC's three first choice centre-backs out (Matt Hedges, Sigurd Rosted, Shane O'Neill), Bob Bradley has gone for a makeshift backline. Given the momentum Montréal is carrying into this game, it will be intriguing to see how this Toronto lineup aims to put the past week behind them and hopefully grind out a result.
6:35 pm ET – Here we are, folks. At arguably one of the lowest periods in recent Toronto FC history, the Reds are back in action for the third time in the space of a week, and for the second straight game against their biggest rival, CF Montréal. Following an utterly disappointing exit from the Canadian Championship, Bob Bradley's depleted squad will have all eyes on making amends and recording three crucial MLS points.
---
Starting XIs:
An interesting lineup from Bob Bradley to say the least. Kosi Thompson is the notable inclusion, with the youngster making his first MLS start of the season. The load will likely once again fall on Lorenzo Insigne and Federico Bernardeschi, who are both getting their first taste of that Stade Saputo atmosphere.
Victory Wanywama returns to the starting XI for CFMTL, with Mathieu Choinière likely taking on a more attacking role. Chinonso Offor, who scored at BMO Field on Tuesday, once again starts up front alongside Romell Quioto.
---
Match Preview via Adam Palermo:
It's already been a hectic week for Toronto FC but things are about to get a lot more interesting. After falling to their biggest rivals in the Canadian Championship on Tuesday, the Reds are back in action on Saturday evening in Montreal, hoping to bounce back from a devastating 2-1 loss.
In their first midweek match of the season, Toronto struggled to deal with Hernán Losada's Montreal side, who all of a sudden have five wins on the trot after a horrid start to the 2023 campaign.
Somehow the result on Tuesday took a backseat to some of the other shenanigans that took place in Toronto. Skirmishes between opposing fans and a post-match confrontation between TFC supporters and midfielder Mark-Anthony Kaye were all anyone was talking about the next day. Since that night, four of those in attendance at BMO Field have received permanent bans from MLSE facilities, and the visitor's supporters section at Stade Saputo has been closed for Saturday's follow-up contest.
In the midst of the madness, Bob Bradley has had to deal with a depleted squad, as eight first team players have been ruled out of Saturday's match with injury.
Reversing the recent trend of poor results in what will surely be a hostile environment after the incidents which occurred on Tuesday will be a tall task, especially considering the lack of experience Toronto will have at the back.
Sigurd Rosted exited the cup defeat and headed straight to the dressing room, while Matt Hedges was a late scratch from the starting lineup as he tries to fight off a lower body injury. His replacement on Tuesday was Shane O'Neill, but he will also not be available for the upcoming fixture.
Centre-back Aimé Mabika will more than likely be thrown into his second start for his new club after being acquired from Inter Miami less than three weeks ago. Who starts beside the towering defender is another matter. With Mabika currently standing as the only fit first team centre-back, the club has signed Antony Curic from TFC II. The 22-year-old could be in line for his first-ever start for the senior team.
Bradley could also opt to cover the defence with a back three, but in doing so would be playing someone like Raoul Petretta or perhaps Kaye out of their natural position. No matter the case, stopping the Montreal attack will have to be an all hands on deck approach with Toronto so decimated by injury in crucial positions.
The injury issues could not have come at a worse time for Bradley, as Saturday's match could potentially have ramifications for his job security. Many supporters have lost patience with their team, and another disastrous performance this weekend could push President Bill Manning to at least seriously consider a change at Head Coach.
As Toronto begins to falter, Montreal have seemingly turned the tide after losing six of their first seven league matches to start the year. Losada has managed to steady his ship while Bradley has been left to bail water out of his metaphorical boat, hoping to avoid sinking further down the standings.
Mathieu Choiniere has been a revelation at central midfield for Montreal, earning back-to-back MLS Team of the Matchday nods. The 24-year-old has without a doubt been one of the best performing Canadians in MLS through the first weeks of the season and he has been a huge reason why Montreal have been able to pick up results as of late.
Ariel Lassiter and Bryce Duke, formerly of Inter Miami, have also had strong starts to their careers up north, even after many questioned the deal which sent Canadian defender Kamal Miller to Florida.
---
Match Details:
Opponent: CF Montréal
Kickoff time: 7:30 pm ET
Watch: MLS Season Pass
Stadium: Stade Saputo, Montreal, Que.
---
---