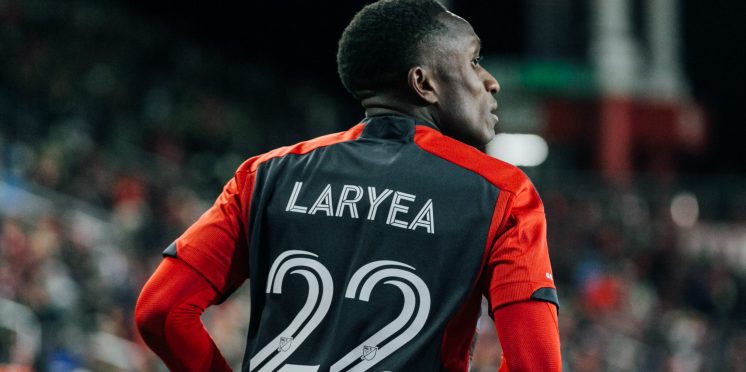 The case for Toronto FC to keep Richie Laryea permanently
Richie Laryea has been an important player for Toronto FC since he joined the team in 2019, and he has continued to impress under the guidance of head coach and sporting director Bob Bradley. His performances have helped TFC reach the playoffs in both 2019 and 2020.
There are many reasons why TFC should keep Laryea and why he should choose to stay at his hometown club.
A key player for the Reds, he is versatile and can play in multiple positions, which is a valuable asset for any team. His speed, technical ability, and defensive awareness make him a dangerous player going forward, and his defensive work rate helps the team maintain a solid shape at the back. Laryea has also shown that he can score goals and provide assists when making runs into the attacking third.
Laryea made his 100th career appearance for the Reds over the weekend and nabbed his 10th goal for the club in all competitions. He also became the 25th TFC player to reach double digits in goals scored for the club.
The 28-year-old is showcasing just how important he is to keep at this club. Laryea commented on his milestone after the game, "It's nice to make 100 appearances anywhere but more so for your hometown club, so it felt good, it was a good feeling… a cool milestone for me."
But he never got the same opportunity with Orlando SC. Laryea made 21 appearances in three seasons for Orlando and only three of those appearances were starts.
Toronto FC signed the defender as a free agent on March 21, 2019. After playing under Greg Vanney that season, Laryea reflected on the advice he received from TFC's former head coach which helped ignite his confidence.
"It was a pretty good learning experience because at the time, Greg Vanney here, switched me to right-back and I was learning a lot from him, his staff and other staff who played outside back or as a defender before, so that was really big for me."
"I was lucky enough, too, at Toronto here, get to see Justin Morrow and Auro – [who] were very good outside backs and I was fortunate enough to be able to learn from them and go to the national team and play with other guys who are obviously very good like Alphonso Davies and Sam Adekugbe."
Laryea got his first goal on May 26, 2019 in his fourth start with the club and would go on to score one more goal that season. He scored four goals in 2020 and three goals in 2021.
"Now being with Bob and the different ideas he has are all pretty similar to the other coaches in the sense that they want to have the ball, they want everyone confident and involved on the ball. Learning a lot now under Bob as well."
Bob Bradley's preferred style of play is possession-based, with an emphasis on attacking through the wings. This plays perfectly into Laryea's strengths, as he is an excellent dribbler with great pace and can beat defenders with ease. His versatility means that he can also play as a wing-back, providing support in both attack and defense.
Speaking to the media at the end of the 2-2 draw against Atlanta United over the weekend, Bradley commented on Laryea's remarkable performance which saw the right-back help the team level the score just before halftime with a goal of his own.
"When Richie gets space going forward, he can cause trouble. What I liked in that moment is he saw the space and they [Atlanta] backed up a little bit – he took advantage…and finished a really good goal."
Under Bradley's guidance, Laryea has continued to improve and develop his game. Bradley has encouraged him to be more aggressive in his attacking play, and this has resulted in Laryea becoming more involved in the final third. The Canadian has also improved defensively, with his reading of the game and positional awareness growing every season.
Laryea has also developed into a fan favourite in Toronto. He was born and raised in the city, and fans appreciate seeing a local player succeed on the pitch. Laryea's work ethic and dedication to the club have also endeared him to the fans, and the TFC faithful would be devastated to see him leave.
The is no doubt that Laryea has shown his commitment to the club and he can continue to be a valuable asset for TFC in their push for success this season. However, Laryea's loan agreement is ending at the end of June and whether the club decides to make an offer and have him return permanently is still yet to be known.
Remaining in Toronto would give Laryea the opportunity to continue playing in a familiar environment. He would not have to adjust to a new city, new teammates, or a new style of play. Toronto FC has also shown that they are committed to developing local talent, and Laryea would be an important part of that project.
TFC should do everything in their power to keep Laryea at the club. He is a talented player who has proven himself on the pitch and has become a fan favourite. Bradley's coaching and management style has already had a positive impact on Laryea's game, and his strengths make him a perfect fit for Bradley's preferred style of play.
As for TFC's most dedicated full-back in recent history, he shall continue to work hard and showcase his abilities for the Reds, both for the team's success and undoubtedly, for his own career prospects should he return to European football. Regardless of what the future holds, Laryea's work ethic and the allegiance he has to this club will always be cherished.
In short, Laryea's unwavering dedication to Toronto FC proves that there's no place like home, especially when you're defending it like a true homegrown hero.
---
---